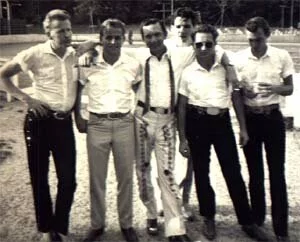 On the road with Ray in the 1960's, Cherokee Cowboys Jimmy Day, Buddy Spicher, Ray, Steve Bess. Willie Nelson & Pete Wade
Interviews, Memories and Pictures:


Blondie Calderon
Cliff Price
Scott Crossman
Fernando Calderon
Photos and Memories I
Photos and Memories II
Willie Nelson
Roger Miller

Next ->

Please note: This is an ongoing project. There are many more pages, pictures and memories to be added.